update nov 22:
Ahead of OpenAI CEO Sam Altman's four days in exile, several staff researchers wrote a letter to the board of directors warning of a powerful artificial intelligence discovery that they said could threaten humanity
Altman back at OpenAI, may have fewer checks on power
Before OpenAI, Altman was asked to leave by his mentor at the prominent start-up incubator Y Combinator, part of a pattern of clashes that some attribute to his self-serving approach […] Graham had surprised the tech world in 2014 by tapping Altman, then in his 20s, to lead the vaunted Silicon Valley incubator. Five years later, he flew across the Atlantic with concerns that the company's president put his own interests ahead of the organization — worries that would be echoed by OpenAI's board. […] Altman's practice of filling the board with allies to gain control is not just common, it's start-up gospel from Altman's longtime mentor, venture capitalist Peter Thiel. […] One person who has worked closely with Altman described a pattern of consistent and subtle manipulation that sows division between individuals.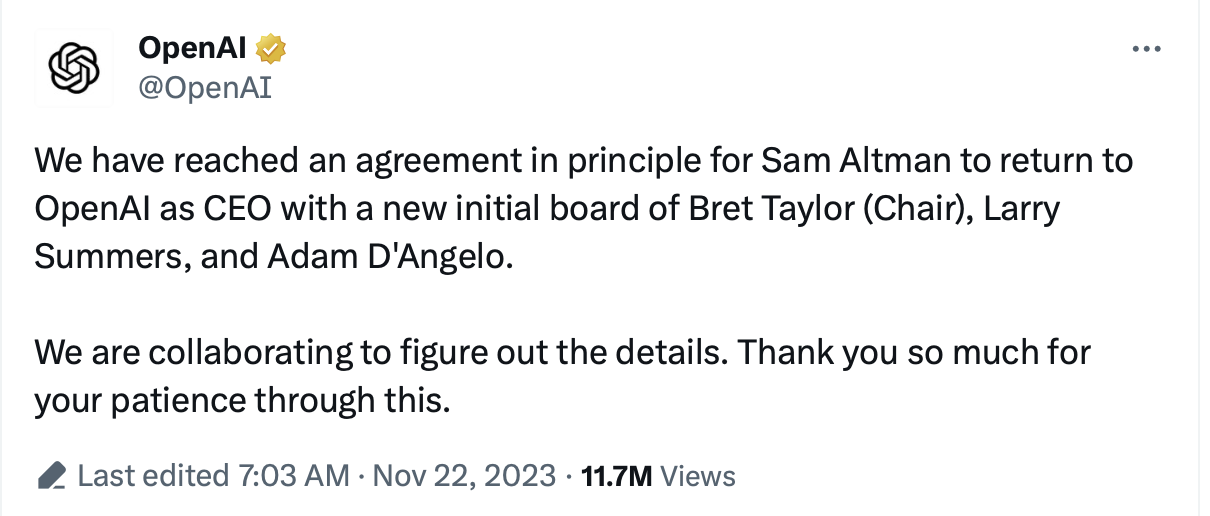 update nov 21:
Sam Altman, OpenAI Board Open Talks to Negotiate His Possible Return
OpenAI's board may be coming around to Sam Altman returning
After Altman firing, OpenAI tried to merge with rival—and was rejected
update nov 20:
Microsoft already has a perpetual license to all OpenAI IP (short of artificial general intelligence), including source code and model weights; the question was whether it would have the talent to exploit that IP if OpenAI suffered the sort of talent drain that was threatened upon Altman and Brockman's removal. Indeed they will, as a good portion of that talent seems likely to flow to Microsoft; you can make the case that Microsoft just acquired OpenAI for $0 and zero risk of an antitrust lawsuit.
It ended with former Twitch leader Emmett Shear taking over as OpenAI's interim chief executive and Microsoft announcing it was hiring Altman and OpenAI co-founder and former President Greg Brockman to lead Microsoft's new advanced AI research team.
Nearly 500 employees of OpenAI have signed a letter saying they may quit and join Sam Altman at Microsoft unless the startup's board resigns and reappoints the ousted CEO.
update nov 19: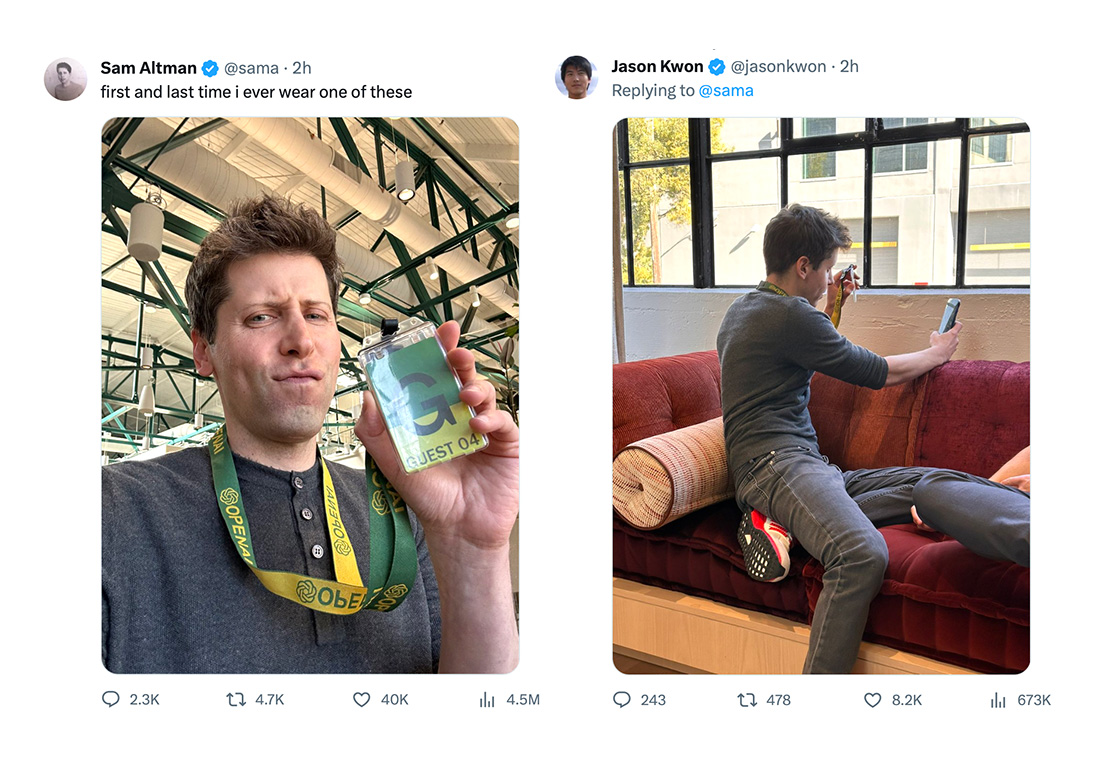 OpenAI Investors Plot Last-Minute Push With Microsoft To Reinstate Sam Altman As CEO
Altman is "ambivalent" about coming back and would want significant governance changes
Kholsa Ventures, an early backer of OpenAI, wants Mr Altman back at OpenAI but "will back him in whatever he does next." Mr Altman and former Apple design chief Jony Ive have been discussing building a new AI hardware device. It said that SoftBank CEO Masayoshi Son had been involved in the conversation.
nov 18: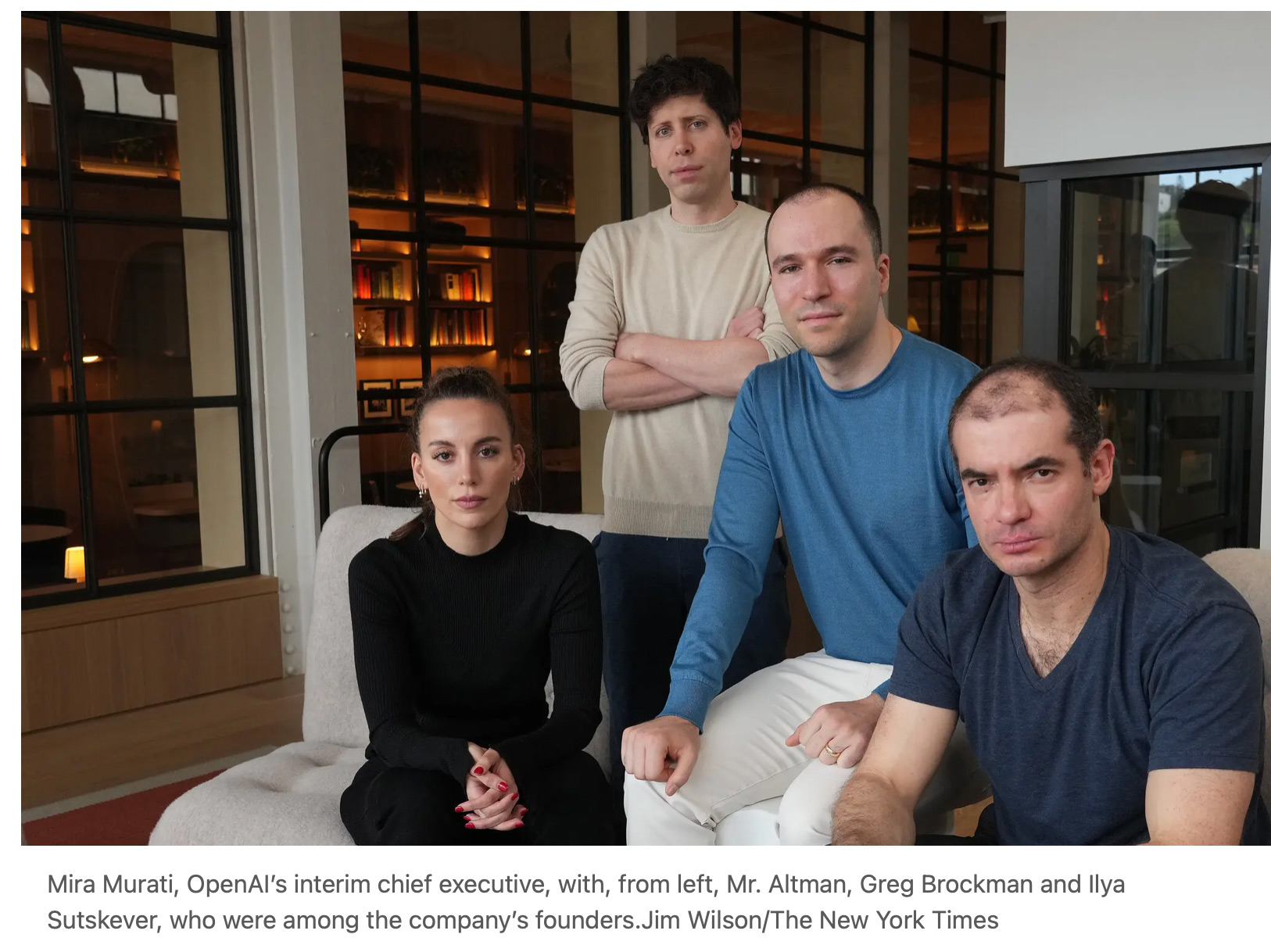 On Friday, OpenAI fired CEO Sam Altman in a surprise move that led to the resignation of President Greg Brockman and three senior scientists. The move also blindsided key investor and minority owner Microsoft, reportedly making CEO Satya Nadella furious. […] According to Brockman, the OpenAI management team was only made aware of these moves shortly after the fact, but former CTO (now interim CEO) Mira Murati had been informed on Thursday night. […] insiders say the move was mostly a power play that resulted from a cultural schism between Altman and Sutskever over Altman's management style and drive for high-profile publicity. On September 29, Sutskever tweeted, "Ego is the enemy of growth."

{ Ars Technica | Continue reading }

Instead of building the next GPT or image maker DALL-E, Sutskever tells me his new priority is to figure out how to stop an artificial superintelligence (a hypothetical future technology he sees coming with the foresight of a true believer) from going rogue. Sutskever tells me a lot of other things too. He thinks ChatGPT just might be conscious (if you squint). He thinks the world needs to wake up to the true power of the technology his company and others are racing to create. And he thinks some humans will one day choose to merge with machines.

{ Technology Review | Continue reading }

{ @sama = Sam Altman | @gdb = Greg Brockman }