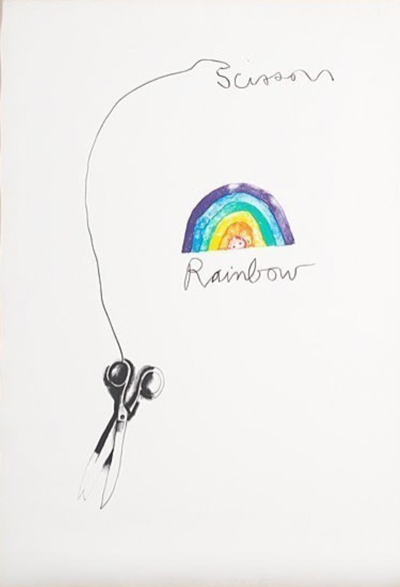 Thomas P. "Boston" Corbett (1832 – presumed dead 1894) was a Union Army soldier who shot and killed President Abraham Lincoln's assassin, John Wilkes Booth on April 14, 1865. Corbett was initially arrested for disobeying orders, but was later released and was largely considered a hero by the media and the public.

Known for his devout religious beliefs and eccentric behavior, Corbett drifted around the United States before disappearing around 1888. Circumstantial evidence suggests that he died in the Great Hinckley Fire in September 1894, although this remains impossible to substantiate. […]

On July 16, 1858, Corbett was propositioned by two prostitutes while walking home from a church meeting. He was deeply disturbed by the encounter. […] In order to avoid sexual temptation and remain holy, he castrated himself with a pair of scissors.
lithograph { Jim Dine, Rainbow Scissors, 1969 }