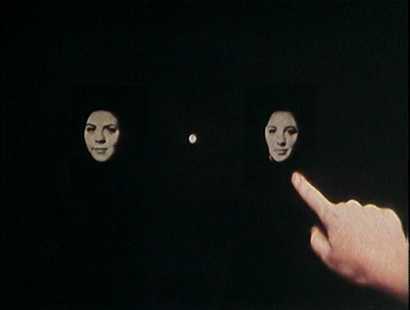 We Westerners have a boring pointing repertoire. Most of the time, we just jut out our arm and index finger. If our hands are occupied — carrying a heavy load, say — then we might resort to a jerk of the head or elbow. But if the pointer finger's free, we'll point it.

Not so for the Yupno. Within a few days of their arrival in the valley, Núñez and Cooperrider noticed that the Yupno often point with a sharp, coordinated gesture of the nose and head that precedes them looking toward the point of interest. […]

Pointing, he answered, seems to be a fundamental building block of human communication. Great apes are never seen pointing in the wild. And in human babies, pointing develops even before the first word […]

The Yupno aren't the only ones who point with their face. Lip pointing — in which protruding lips precede an eye gaze toward the area of interest — has been observed in people from Panama, Laos, and other groups in Australia, Africa, and South America. Head pointing, according to one study, happens frequently among people speaking Arabic, Bulgarian, Korean, and African-American Vernacular English.