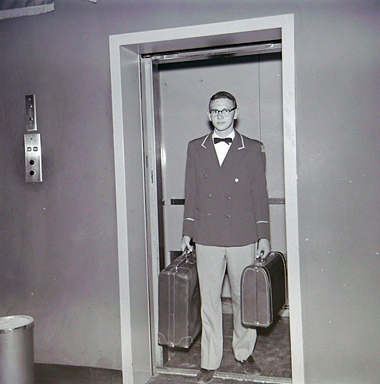 Queuing theory is the study of lines. All kinds of lines. The lines at supermarket checkouts, the lines at toll booths, the lines of people on hold waiting for someone, anyone, to pick up at the cable company's 1-800 number. […]

Since the mid-20th century, queuing theory has been more about feelings than formulas. For example: Midcentury New York featured a rush-hour crisis—not out on the roads, but inside office tower lobbies. There weren't enough elevators to handle the peak crowds. Complaints were mounting. "One solution would have been to dynamite the buildings and build more elevator shafts," says Larson. "But someone figured out the real problem isn't just the duration of a delay. It's how you experience that duration." Some buildings installed floor-to-ceiling mirrors near the elevators and, entertained by their own reflections and by the flirting that sometimes ensued, people stopped complaining quite as much about the wait time.

There are three givens of human nature that queuing psychologists must address: 1) We get bored when we wait in line. 2) We really hate it when we expect a short wait and then get a long one. 3) We really, really hate it when someone shows up after us but gets served before us.