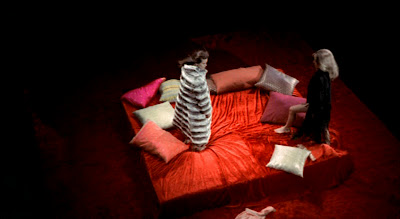 The study, reported in The Journal of Neuroscience [2007], provides the first direct evidence that humans, like rats, moths and butterflies, secrete a scent that affects the physiology of the opposite sex. (…)

He found that the chemical androstadienone — a compound found in male sweat and an additive in perfumes and colognes — changed mood, sexual arousal, physiological arousal and brain activation in women.

Yet, contrary to perfume company advertisements, there is no hard evidence that humans respond to the smell of androstadienone or any other chemical in a subliminal or instinctual way similar to the way many mammals and even insects respond to pheromones, Wyart said. Though some humans exhibit a small patch inside their nose resembling the vomeronasal organ in rats that detects pheromones, it appears to be vestigial, with no nerve connection to the brain.

"Many people argue that human pheromones don't exist, because humans don't exhibit stereotyped behavior. Nonetheless, this male chemical signal, androstadienone, does cause hormonal as well as physiological and psychological changes in women." (…)

Sweat has been the main focus of research on human pheromones, and in fact, male underarm sweat has been shown to improve women's moods and affect their secretion of luteinizing hormone, which is normally involved in stimulating ovulation.

Other studies have shown that when female sweat is applied to the upper lip of other women, these women respond by shifting their menstrual cycles toward synchrony with the cycle of the woman from whom the sweat was obtained.