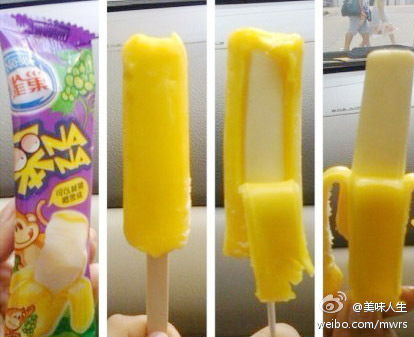 Chinese ice cream is different, and those differences reflect a different economic and technological context. American ice cream is mainly sold by grocery stores in large containers to be eaten at home. So the basic assumption is that people have freezers at home in which to store the ice cream. Even when ice cream is sold on-the-go, it is sold out as scoops out of those big containers. But historically in China most people did not have freezers at home, though many more of them do now. Ice cream in China is therefore usually sold by convenience stores or roadside stalls, in small packages to be eaten immediately. So rather than big vats of ice cream, it is mostly individual bars.

These constraints have pushed innovation in Chinese ice cream in different directions. You can get all kinds of amazing wacky ice cream flavors in the US, but they are all delivered in mostly the same form: a tub of ice cream eaten with a spoon. Chinese ice cream innovates on form and texture more than with ingredients, with many bars featuring not just crunchy outer layers of chocolate but interior elements made of various yummy substances.

The structural complexity of some ice-cream bars is so great that it's common for the package to have a 3-D cutaway diagram to illustrate all the goodies on the inside.