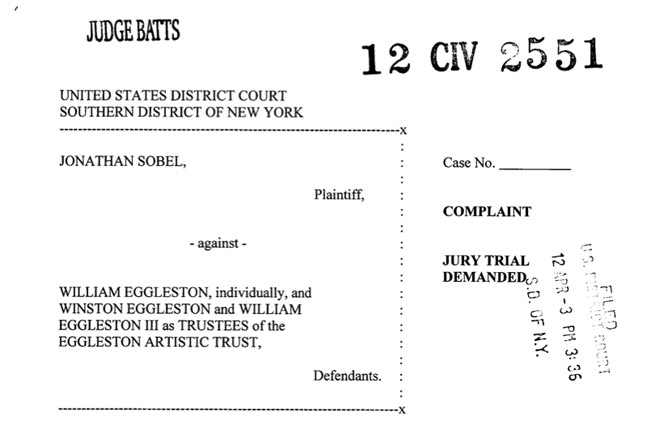 The U.S. District Court in the Southern District of New York dismissed collector Jonathan Sobel's lawsuit against photographer William Eggleston. […]

The lawsuit was spurred by Christie's sale last March of 36 poster-size, digital prints of images that Eggleston had shot in the Mississippi Delta more than 30 years ago. Some were created from negatives he had never printed before, while others were based on iconic works, such as "Memphis (Tricycle)." (Sobel owns a 17-inch version of that photograph, for which he reportedly paid $250,000.) The sale was a massive success — by the time it was over, the large digital works accounted for seven of the artist's top 10 prices. (The five-foot "Tricycle" came in on top, selling for a record $578,500.)

For Sobel, who owns 190 Eggleston works, the success of the sale was part of the problem. "The commercial value of art is scarcity, and if you make more of something, it becomes less valuable," he told ARTINFO last April.

The judge disagreed. Egggleston may have profited from the Christie's sale, she concluded, but not at Sobel's expense. Eggleston could be held liable only if he created new editions of the limited-edition works in Sobel's collection using the same dye-transfer process he used for the originals — a move that would directly deflate their value. In this case, however, Eggleston was using a new digital process to produce what she deemed a new body of work.