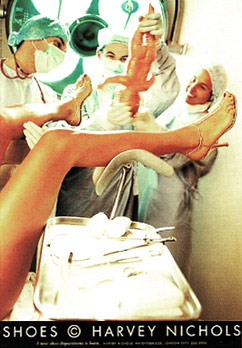 Humans increase their body weight by a factor of 30 or so as they grow from babies to adults. For elephants the factor is closer to 100. 

But this raises a problem for biologists. They know that internal organs all grow at almost exactly the same rate, a phenomenon known as proportionate growth. But how does the body organise this? 

At one level, the answer is clear. The growth is controlled by chemical regulators–hormones, promoters, inhibitors and so on. These in turn are controlled by various genes. 

But this isn't an entirely satisfactory explanation. The reaction rates associated with these chemicals can vary hugely from cell to cell because only a relatively small number of molecules are involved.

If these variations were independent, they would cause much greater variation in growth throughout the body than is observed. So some other organising principle must be at work.
photo { David LaChapelle for Harvey Nichols, 1998 | Agency: Harari Page }