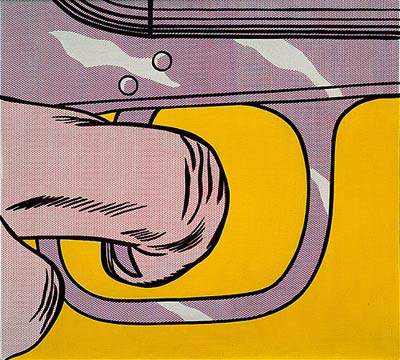 One of the more memorable encounters in the history of modern art occurred late in 1961 when the period's preeminent avant-garde dealer, Leo Castelli, paid a call at the Upper East Side Manhattan townhouse-cum-studio of Andy Warhol, whose pioneering Pop paintings based on cartoon characters including Dick Tracy, the Little King, Nancy, Popeye, and Superman had caught the eye of Castelli's gallery director, Ivan Karp, who in turn urged his boss to go have a look for himself. Warhol, eager to make the difficult leap from commercial artist to "serious" painter, decades later recalled his crushing disappointment when Castelli coolly told him, "Well, it's unfortunate, the timing, because I just took on Roy Lichtenstein, and the two of you in the same gallery would collide."

Although Lichtenstein, then a thirty-eight-year-old assistant art professor at Rutgers University's Douglass College in New Jersey, was also making pictures based on comic-book prototypes—an example of wholly independent multiple discovery not unlike such scientific findings as calculus, oxygen, photography, and evolution—he and Warhol were in fact doing quite different things with similar source material, as the divergent tangents of their later careers would amply demonstrate. By 1964, Castelli recognized his mistake and added the thwarted aspirant to his gallery roster, though not before Warhol forswore cartoon imagery, fearful of seeming to imitate Lichtenstein, of whom he always remained somewhat in awe.

In fact, what Lichtenstein and his five-years-younger contemporary Warhol had most in common was being the foremost exemplars of Cool among their generation of American visual artists. The first half of the 1960s was the apogee of what might be termed the Age of Cool—as defined by that quality of being simultaneously with-it and disengaged, in control but nonchalant, knowing but ironically self-aware, and above all inscrutably undemonstrative.