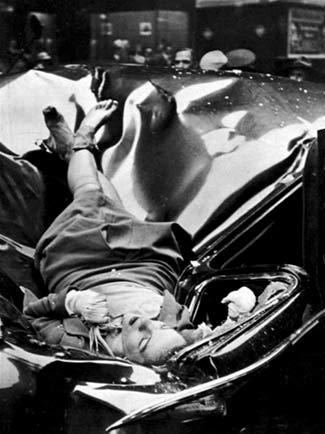 A long-time Hollywood publicist was fatally shot inside her Mercedes-Benz, which then crashed into a light pole in Beverly Hills. Ronni Chasen, 64, was shot five times in the chest around 12:30 a.m. near Whittier Drive and Sunset Boulevard, according to Beverly Hills police.

Officers responding to the scene found Chasen's black, late-model E-350 sedan crashed into a light pole on Whittier just south of Sunset. Chasen was taken to Cedars-Sinal Medical Center, where she was pronounced dead, according to the coroner's office.

Police said they had no information about a suspect or motive for the shooting.

Chasen, the former senior vice president of worldwide publicity at MGM, was a well-known figure in Hollywood film and publicity circles. (…)

Chasen's death was the third homicide this year in Beverly Hills.
photo { On May 1, 1947, Evelyn McHale leapt to her death from the observation deck of the Empire State Building. Photographer Robert Wiles took a photo of McHale a few minutes after her death. }