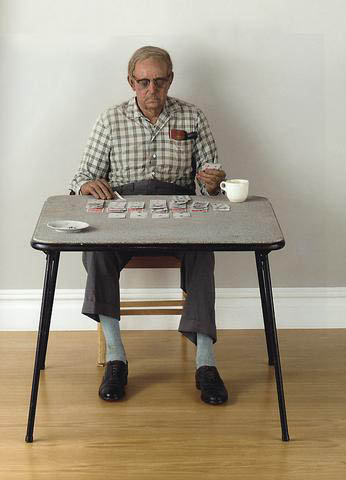 Impending fatherhood can lower two hormones–testosterone and estradiol–for men, even before their babies are born, a new University of Michigan study found.

Other studies indicate that men's hormones change once they become fathers, and there is some evidence that this is a function of a decline after the child's birth. […]

Expectant mothers experience significant hormone changes throughout the transition to parenthood, but less has been known about the prenatal hormone changes among soon-to-be fathers.

Women showed large prenatal increases in all four hormones, while men saw declines in testosterone (which is associated with aggression and parental care) and estradiol (which is associated with caregiving and bonding). No changes were found in men's cortisol (a stress hormone) or progesterone (which is associated with social closeness and maternal behavior).
sculpture { Duane Hanson, Old Man Playing Solitaire, 1973 }