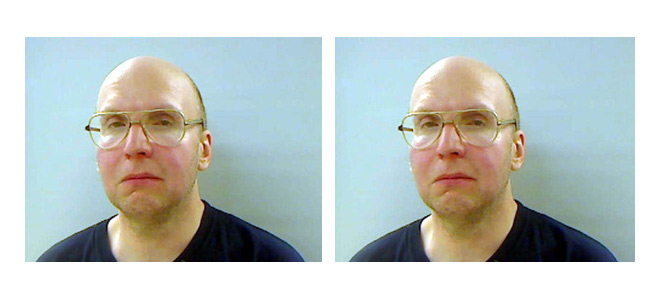 Christopher Knight went into the central Maine wilderness 27 years ago. […]

He built a hut on a slope in the woods, where he spent his days reading books and meditating.

There he lived, re-entering civilization only to steal supplies from camps under the cover of darkness. During those nearly three decades, he spoke just once to another person – until he was arrested during a burglary last week.

In between, Knight told police, he committed more than 1,000 burglaries, always taking only what he needed to survive. […]

Knight said he stole everything he has, except for his aviator-style eyeglasses, which are the same pair he wore in 1986. […]

Knight went to great lengths to make the camp invisible from the ground and the air, even covering a yellow shovel with a black bag. Knight never had a fire, even on the coldest days, for fear of being detected. He covered shiny surfaces, like his metal trash cans, with moss and dirt and painted green a clear plastic sheet over his tent.

Knight even situated his campsite facing east and west to make the best use of the sun throughout the day. […]

Knight carefully avoided snow, stepped on rocks when he could and even avoided breaking branches in thick growth. Knight usually put on weight in the fall so he would have to eat less in the winter and thus avoid making treks for food and risk leaving prints in the snow.