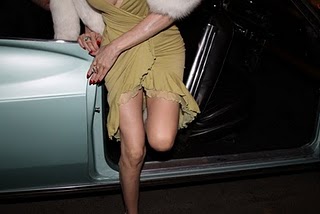 This weekend, the sun will set in perfect alignment with primary sections of the Manhattan street grid. Manhattanhenge 2010: May 30/31 and July 11/12.
Gino, an Italian restaurant which opened in 1945 on Lexington Avenue near Sixty-first Street, will close after Saturday night's dinner on May 29th. All the items on the menu appear on a single plastic-covered page and were handwritten in ink sixty-five years ago by the restaurant's founder, Gino Circiello.
The first time he went to Sardi's, he believes, was in 1933, six years after it opened at its current location, on West 44th Street. The last time was Tuesday afternoon, when Mr. Herz, 93, a retired theatrical jack-of-all-trades, ate a crabmeat sandwich.
Like so many of the city's legendary nightspots, the Lion disappeared, replaced by a series of other restaurants on the ground floor of a brownstone on Ninth Street. It reopened last week, as a tavern and restaurant whose owners have labored to restore the spirit of its early-1960s heyday. A Vision of the City as It Once Was.
9/11 attacks linked to increased male baby miscarriages.
Times Square Set for Colorful Makeover Before Summer's Tourist Rush. [eek!]
Claude Monet's nympheas at Gagosian Gallery, until June 26, 2010.
The exhibition titled "Salt Rises above the Sky — 25 Years of unique salt artworks by Bettina Werner, 49th floor of 7 World Trade Center, NYC, thru June 10th, 2010.
From Wednesday, May 26 at 12 am through Friday, May 28 at 11:59 pm, the Whitney Museum will remain open for three consecutive days as part of 2010 artist Michael Asher's Biennial project.