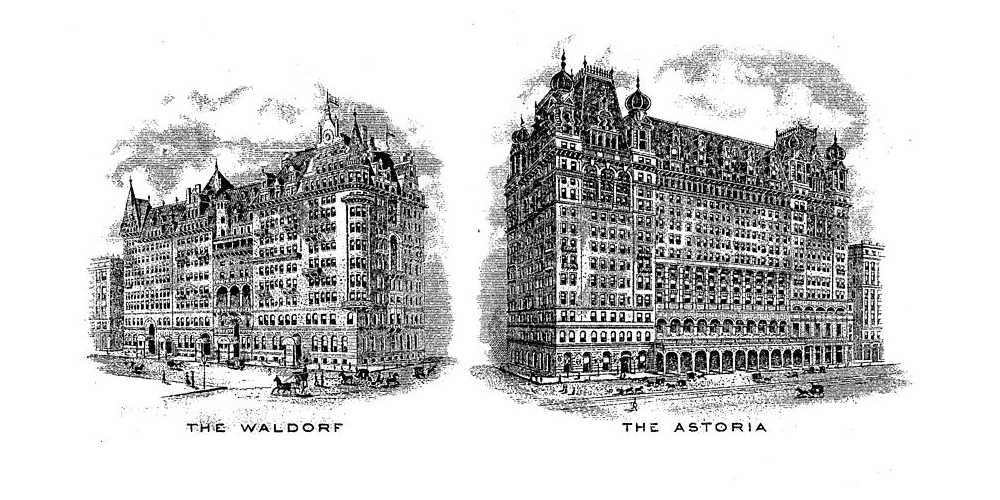 Many New Yorkers are familiar with the iconic Waldorf Astoria, which sits on Park Avenue. But they might be surprised to learn that this is the second iteration of the luxury hotel. The original was located along Manhattan's fashionable Fifth Avenue, and the structure took up the entire block between 33rd and 34th streets. But in late November 1929 — after the stock market had crashed and the slow slide into the Great Depression began — workers began demolishing it. […] The demolition of the old hotel, completed by the winter of 1930, made way for the construction of the ultimate expression of the city's architectural ambitions: the Empire State Building.

The original hotel started as two hotels on Fifth Avenue built by feuding relatives. The first hotel, the 13-story, 450-room Waldorf Hotel, designed by Henry Janeway Hardenbergh in the German Renaissance style, was opened on March 13, 1893, at the corner of Fifth Avenue and 33rd Street, on the site where millionaire developer William Waldorf Astor had his mansion. […]

On November 1, 1897, John Jacob Astor IV opened the 17-story Astoria Hotel on an adjacent site, and leased it to Boldt. The hotels were initially built as two separate structures, but Boldt planned the Astoria so it could be connected to the Waldorf by an alley. Peacock Alley was constructed to connect the two buildings,[21] and the hotel subsequently became known as the "Waldorf-Astoria", the largest hotel in the world at the time.