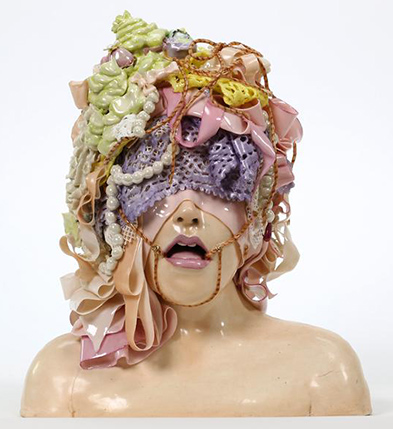 Heterosexual men were most likely to say they usually-always orgasmed when sexually intimate (95%), followed by gay men (89%), bisexual men (88%), lesbian women (86%), bisexual women (66%), and heterosexual women (65%).

Compared to women who orgasmed less frequently, women who orgasmed more frequently were more likely to: receive more oral sex, have longer duration of last sex, be more satisfied with their relationship, ask for what they want in bed, praise their partner for something they did in bed, call/email to tease about doing something sexual, wear sexy lingerie, try new sexual positions, anal stimulation, act out fantasies, incorporate sexy talk, and express love during sex.

Women were more likely to orgasm if their last sexual encounter included deep kissing, manual genital stimulation, and/or oral sex in addition to vaginal intercourse.
pocelain, china paint and luster { Jessica Stoller, Untitled (frosted bust), 2012 }