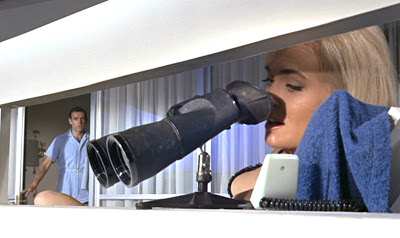 A sophisticated scheme to use a casino's own security systems against it has netted scammers $33m in a high-stakes poker game after they were able to gain a crucial advantage by seeing the opposition's cards.

The team used a high-rolling accomplice from overseas who was known to spend large amounts while gambling at Australia's biggest casino, the Crown in Melbourne, according to the Herald Sun. He and his family checked into the Crown and were accommodated in one of its $30,000-a-night villas.

The player then joined a private high-stakes poker game in a private suite. At the same time, an unnamed person got access to the casino's CCTV systems in the poker room and fed the information he gleaned back to the player via a wireless link. Over the course of eight hands the team fleeced the opposition to the tune of $33m.
srceenshot { Shirley Eaton as Jill Masterson: Bond Girl and Goldfinger's aide-de-camp, whom Bond catches helping the villain cheat at a game of cards. He seduces her, but for her betrayal, she is completely painted in gold paint and dies from 'skin suffocation' (a fictional condition Ian Fleming created for the novel; the skin does not actually "breathe"). }